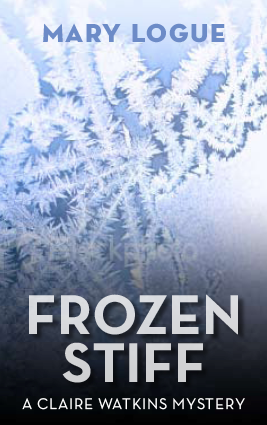 BLURB: "Mary Logue is one of those rare writers who can, with one hand and a poet's eye, create an idyllic world—while the other hand, calmly and coldly, reveals a hard truth: we are not safe."
—K. J. Erickson, author of Alone at Night

"An elegiac tribute to small-town America's loss of innocence…One of crime fiction's finest writers, Mary Logue is at the top of her game."
—Julia Spencer-Fleming, Edgar finalist and author of All Mortal Flesh

"A suspenseful narrative that builds to an explosive climax, then touches the heart with its humanity."
—Margaret Maron

EXCERPT: From Frozen Stiff:

New Year's Eve: 11:55 pm

Even though it was twenty below zero outside, wind blowing up a storm, Daniel Walker was stark naked and sweating like a boxer in the beyond balmy two hundred degrees of his cabin's new sauna.

This is the life, especially in the dead of winter, Walker thought as he tilted his head back and blew smoke from his Davidoff double corona up toward the cedar ceiling. The cigar wrapping was wet and unraveling, but he was almost done. A bottle of Belvedere vodka, nestled in a rapidly melting block of ice, sat on the wooden bench next to him. Wynton Marsalis was blowing his horn through the Bose speakers.

All was so calm. Taking a large swallow of vodka, he could feel the liquid easing its way into his stomach, then sliding into his veins while the sweat beaded up all over his naked body.

Toxins in, toxins out.