Wow, I managed to dodge Cupid yet again! Whew! This is getting tiring! He's taken over the main blog, but I'm hoping I can keep him from finding out about this section, or he just might cause trouble here!
February brings us a new featured author - Ken Dalton!
This week he tells us about his path to writing!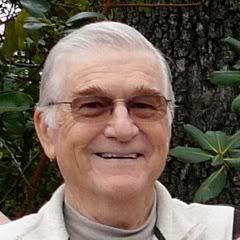 After a career of middle management in the tech world, I was offered a golden parachute (early retirement) and found myself with the time to do anything I wanted to do.
As a avid traveler, and golfer, the obvious choice was to write magazine articles. Luckily, I didn't realize that selling a magazine article was tougher than grabbing an invitation to the pending Royal Wedding. Impossible or not, I received a contract from Golf Illustrated for my first article,
Scotland's Secret Golf Treasures
. Two months later I sent the article to the magazine and they mailed me a check for $750.00. Bingo, my new writing career was off and running with published articles and columns that covered the USA from coast to coast.
Flushed with success, or too ignorant to leave well enough alone, I decided to write my first mystery, not realizing there was a world of difference between creating a three hundred page novel as compared to producing a thousand-word article.
It took me quite a few years to produce,
The Bloody Birthright
, the first of my Pinky and Bear series, and another year to complete,
The Big Show Stopper
, the next in line.
Today, I sit at my keyboard, pounding my once beautiful fingers into meager stubs, on the third Pinky and Bear mystery (title unknown) so I will meet the goal of a late summer release.
Tune in next week for the next installment of our interview with Ken!
Until then, check out his website:
www.kendalton.com